Laraship Amazon Affiliates : eCommerce Platform with Amazon Products Importer
Get rid of all manual efforts of adding Amazon affiliate products by using Laraship Amazon Affiliates Plugin. Using Amazo
Get rid of all manual efforts of adding Amazon affiliate products by using Laraship Amazon Affiliates Plugin.
Using Amazon Product Advertising API. , Laraship powers your store by importing products automatically to your store with no simple, quick, and efficient mechanism.
with two awesome themes ready made, all you have to do is to add your Amazon API setting and then start creating import records by selecting the keywords and categories wanted, and the module will start importing products in the background.
Laraship Amazon Affiliates is using Amazon Product Advertising API for extracting products information and load them to Laraship platform, a complete tutorial to get the API items can be found here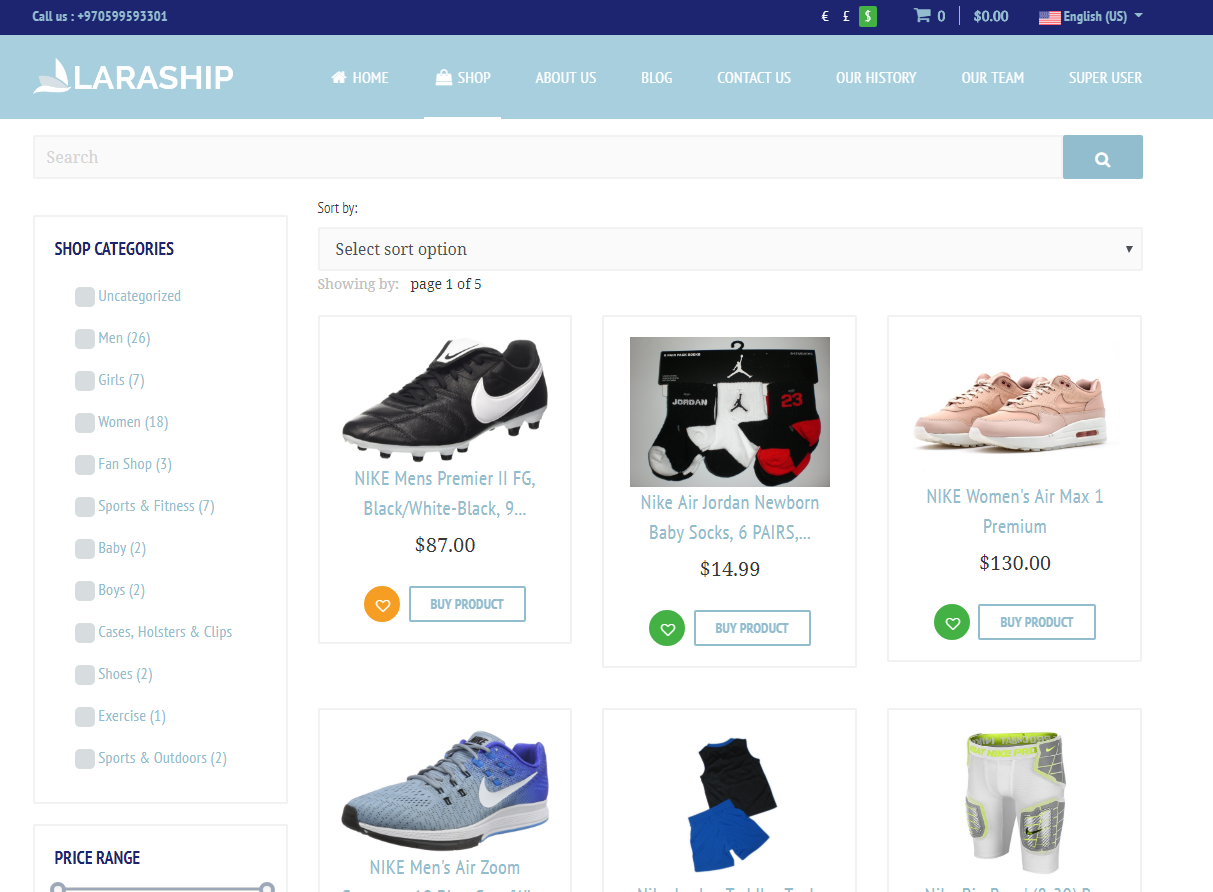 Amazon Affiliates Plugin Features :
unlimited imports of keywords and categories to target the best combination of selling products.
an extended configuration like setting max results to import, images to import.
 Auto Importing Brands, Categories, and Tags.
Status logger to show you the number of products uploaded and import errors if found
Laraship eCommerce Platform is Included, you can selll different product types in parallel
Two Awesome Themes including color variations.
An option to add other product types to your store and create a hybrid e-commerce shop.
Demo:
Laraship Amazon Affiliates store is available at 
https://amazon.laraship.com/
Documentation  https://www.laraship.com/docs/laraship/
Official Website : https://www.laraship.com/
E-commerce management :
Product Managment: Supports Multiple Product Types : Simple , Variable , Shippable , External Products, Downloadable, and Virtal Products like Premuim content access.
SKU Management.
Tax Management: Multiple tax classes per product and tax rules Per Country, State, Zip & Priority with compound taxes.
Shipping Management: Support both Flat Rating Shipping and Shippo Integration https://goshippo.com/ with shipping rules. includes tracking and shipping labels.
Search Engine: Powerfull shop page with powerful search results using Full-text search indexes.
Brand Management.
Awesome eCommerce Theme using Bootstrap 4 (More to come ..)
Orders & Invoices
Product Tags & categories.
Simple Inventory Mangement.
Variable Attributes, Options & Filters Per Product
Coupons & Discounts: with powerful options and customizations.
Ajax Cart & Checkout Wizard
Paypal & Credit Card  Payments powered by Stripe.
Ratings & Reviews.
Wishlist Management.
Social Sharing.
and a lot more.
Content Management :
Page Managment.
Blog with Posts, Categories, Tags.
SEO friendly:  titles and meta tags and meta for twitter and open graph.
Page Builder: edit your pages on the fly.
Slider Manager: includes video / image and HTML types.
Google Analytics Integration: visitor analytics on your dashboard.
User Management :
User Management.
Social Login: Facebook, Twitter, Google+, Github.
Notification Management.
Two Factor Authentication using Authy.
Profile Management: with Profile image cropper.
Multiple Profile Addresses: shipping, billing…
Access Control: including Roles and Permissions
Authentication Management : Login / Register / Forgot Password.
Website Manager :
Menu Builder: Manage dashboard and website menus
Setting Management: handle different settings like single value, array, files, numeric…
Activity log : monitors user activities and handle exceptions.
File Manager: manage your files and embed them easily to HTML editors.
Awesome Dashboard: with System overview analytics.
Widgets: snippets to be included easily.
Communication Manager : Manage Email Templates.
Cache Manager  Boost Performance.
Features :
Latest Version of Laravel with Laravel 5.5  & Bootstrap 4
Automatic Remote updates for Modules.
Theme Management.
Custom Fields: Add Additional Fields to Models using Custom Fields Manager
Actions and Filters Hooks for ease of customization
Encrypted URLs, SSL tested to ensure security
AdminLTE theme for the dashboard and additional frontend theme.
RTL supported themes with localization ready, Arabic & Portugess available
Responsive and tested on all modern browsers.
Modular structure for scalability and maintainability.
Periodic updates and additional features.
Incredible support team.
Available for Freelance and customizations.
Detailed documentation.
Widgets & Shortcodes for easy embedding.
Multiple Currencies.
CHANGELOG
v1.0 – 05/28/2018
NEW
- Initial Relese

---
 Download Now
Get It Now   
Source
---
Tags :